About me
I'm a pro at making the world a happier place … and I have a black belt in problem solving.

As a User Experience Designer, I have 25+ years of freelancing experience in building functional and enjoyable products and services that make customers happy. Happy customers create brand awareness and sustainable revenues for companies that in turn reinvest in creating an even better customer experience. Basically, I'm creating winners – on both sides.

With a background both in research and design, I incorporated UX into websites, platforms, software, online courses etc., as well as marketing, application and training concepts and content – from business strategy to idea to prototype to complete product and consumer life cycles.

I have worked with national and international companies in a variety of environments (from casual to high pressure, from solving client's problems on my own to leading highly collaborative teams).
Now I am looking for a new challenge to work with an inspired team on impactful UX projects that are delivering happiness and value to customers – and the business.
Interests: All things design & art, humans & human psychology, photography, traveling, sustainability/circular economy, quantum physics
Languages: German (native), English (Business C1), French, Spanish, Italian, html (basics)
Brand experience is the "Avenger level" of UX and CX. Experience maturity and obsession over "customer moments" is the winning formula of the most successful companies worldwide.
Brand Experience Organizations: where strategy, UX, and branding meet with products & services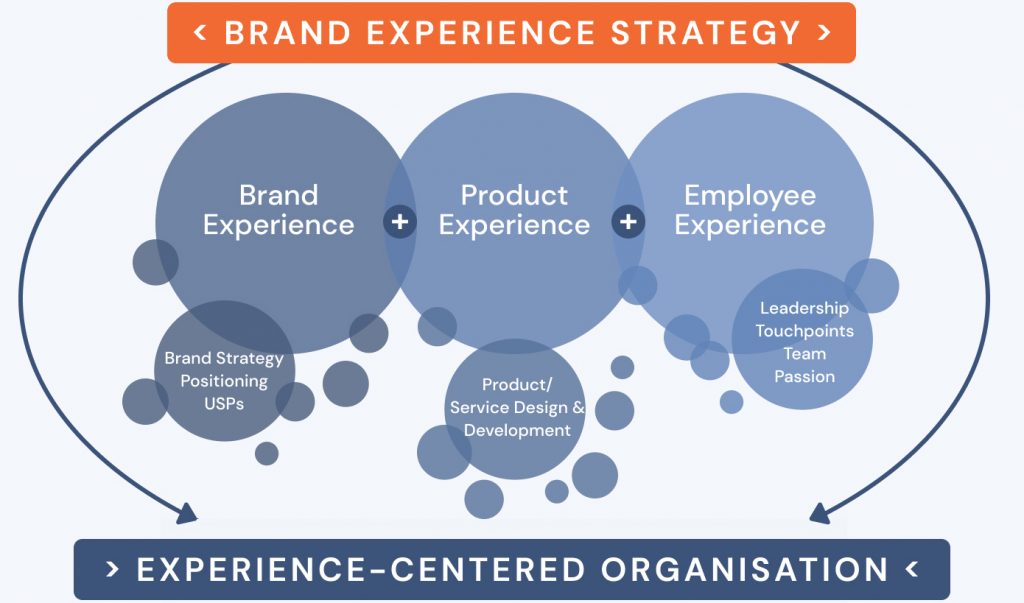 UX is the toolbox that creates an extraordinary strategic brand experience
User Experience or Customer Experience is not a new or exotic tool that lives somewhere in a niche. UX is elementary everywhere, where humans are involved. And yes, that means: literally everywhere.
We're living in an "Experience Economy". Customer experience is not a nice add-on, it can make or break a brand. With two relatively similar products, users/customers will always decide for the better experience.
Brand experience has three pillars:
UX can contribute to each of these steps – a lot. UX makes a huge difference in terms of branding, success, revenues, and sustainability.
The magazine: 5 ways how your company will profit from UX/CX design
I created an online-magazine to point out the path to a customer experience-centric organization.
In our "experience economy" the focus is on customer needs and experiences. In the face of competition, the product/service that delivers the better customer experience will always prevail. Brand image is created at every single touchpoint of customer contact, both analog and digital. Positive customer experiences are not a matter the service department has to handle but should be anchored in each company's DNA, self-image, and corporate culture. This makes a brand a successful and sustainable "experience brand".
Interested? Let's talk.
Articles on Medium / Bootcamp
Projects on Behance